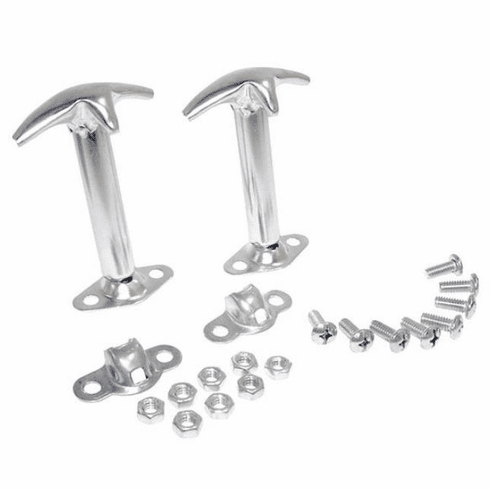 ( 1111601 ) Hood Catch Kit, Stainless Steel, 1941-95 Jeep CJ and Wrangler by Omix-Ada
Product Description
Fits Jeep:
Jeep Wrangler (YJ) (1987-1995).
Willys MB (1941-1945).
Jeep CJ-2A (1945-1949).
Jeep CJ-3A (1948-1953).
Jeep CJ-3B (1953-1968).
Jeep CJ-5 (1955-1983).
Jeep CJ-6 (1955-1975).
Jeep CJ-7 (1976-1986).
Jeep CJ-8 (1981-1985).
This stainless steel hood catch kit is constructed of prime 304 stainless steel that has been polished to a mirror finish. 304 stainless steel is virtually rust proof guaranteeing that these parts will stand the test of time. All hardware is also constructed of stainless steel so the polished look you are going for is complete. Rugged Ridge offers the most complete line of stainless accessories so you can truly customize the look of your vehicle. When you want the best, look to Rugged Ridge stainless accessories!